News Flash or Old News?
Iraq Minister Brands Al-Jazeera A Terror Channel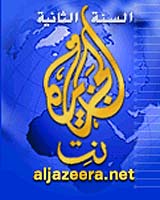 Iraqi Defence Minister Hazem Shaalan branded the popular Arabic-language satellite television Al-Jazeera a "channel of terrorism", in a newspaper interview. That brought a sharp reaction from the broadcaster, which expressed its "utter outrage" at what it said was an "unsubstantiated allegation".

"Al-Jazeera is a channel of terrorism. That is clear and we say openly and without hesitation: Al-Jazeera is a channel of terrorism," Shaalan was quoted by the London-based Arabic newspaper Asharq Al-Awsat as saying.
I have two comments to make on this one...
1. I agree that Al Jazeera is and extremely anti-Western news outlet and every story is dripping in terrorist spin.
2. Emerging democracies should be careful about blocking free speech.
Al Jazeera is currently banned in Iraq.